How to Disable Outlook automatically adding online Teams meeting to calendar invite
A recent update in Outlook update defaults newly created calendar items to automatically add a Microsoft Teams meeting link to the event. If you do not wish to use this feature it can be disabled by opening Outlook, clicking on "File", then "Options" then "Calendar". Once there uncheck the box labeled " Add online meeting to all meetings" and then click "OK"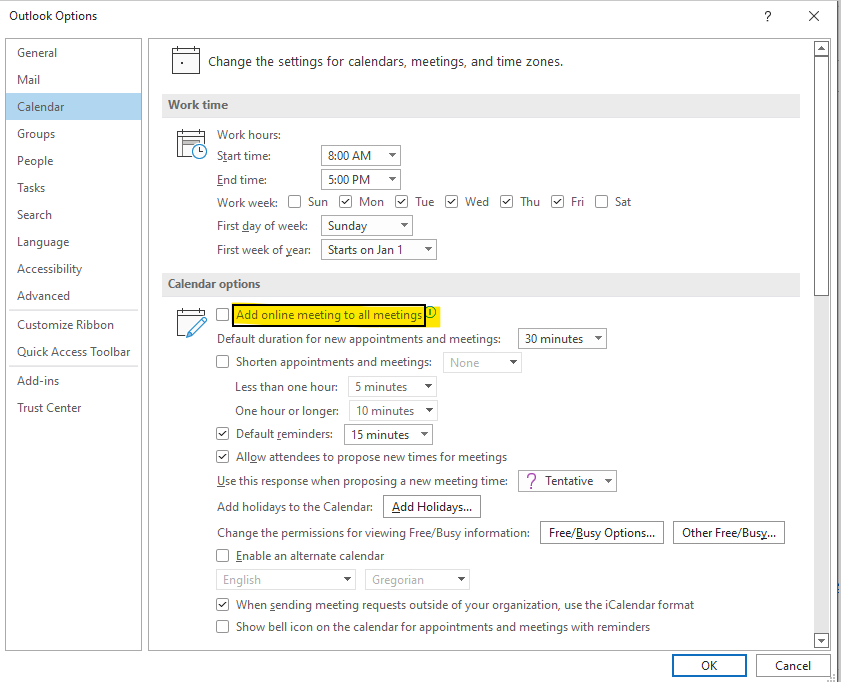 Related Articles

Zoom In-Meeting Controls

Zoom In-Meeting Controls Overview Zoom Rooms in-meeting controls appear on your controller. They allow you to control various aspects of the meeting like adjusting the volume or managing participants. For a printable version of this information, ...

Changes in how to invite users to a Zoom Meeting

On April 7, 2020 Zoom released its latest version which changed the way you invite users to your meeting after the meeting has started. Summary of Changes: https://support.zoom.us/hc/en-us/articles/201361953-New-Updates-for-Windows Your old title bar ...

Add Outlook (exchange account) to the iOS Mail and Calendar Apps

To add your outlook (i.e. exchange account) to your iOS Mail and Calendar Apps please follow the steps pictured below If prompted whether to setup manually or to sign-in select SIGN-IN

Outlook Working Offline

Not receiving E-Mails? "Outlook is Working Offline" "There's a red X over my outlook" "I am not sending or receiving e-mails from outlook" Here's the Solution: - In Outlook navigate to the "Send/Receive" Tab - Find the button that says ...

How to to sign up for Calendly and integrate it into your Hawken Exchange Calendar

Visit Http://www.calendly.com and click on Signup in the upper right hand side of the page Next, please sign up by entering your Hawken Email address an clicking get started. Next enter your Full name or name you wish Calendly to display for you, a ...