Reset unresponsive yoga device



Bottom view and rear view - ThinkPad Yoga 370

If your device will not turn on, even though you have been charging it – try this trick # 3 below.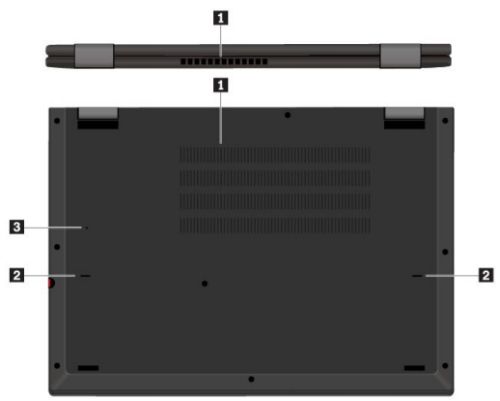 | | |
| --- | --- |
| | [2] Keyboard drainage holes |
| | |
The fan louvers and internal fan enable air to circulate in the computer to ensure proper cooling, especially the cooling of the microprocessor.


Note: To ensure proper airflow, do not place any obstacles in front of the fan louvers.


If you accidentally spill water or drink over the keyboard, the keyboard drainage holes can help drain out liquid from your computer.


If the computer stops responding and you cannot turn it off by pressing the power button, remove the ac power adapter and insert a straightened paper clip into the emergency-reset hole to reset the computer.