Before Turning in Your Laptop

Back up

Back up your local files from your laptop to either the cloud or an external drive. Anything on your laptop that isn't on the cloud will be lost when you turn it in. That includes your Desktop, Documents, Pictures, Audio, Video and everything else storied locally on your C drive.

You can use any method you wish to back up your data. While an external drive is usually the fastest in terms of transfer speed, it is not always accessible to everyone. Hawken students should have both OneDrive and Google Drive. Either are good options.

OneDrive



First ensure OneDrive is actually running! The files can't back up without OneDrive running.

Check your system tray to see if the blue cloud icon is there. If it is then you know OneDrive is running.


If OneDrive is not running, open it from the start menu: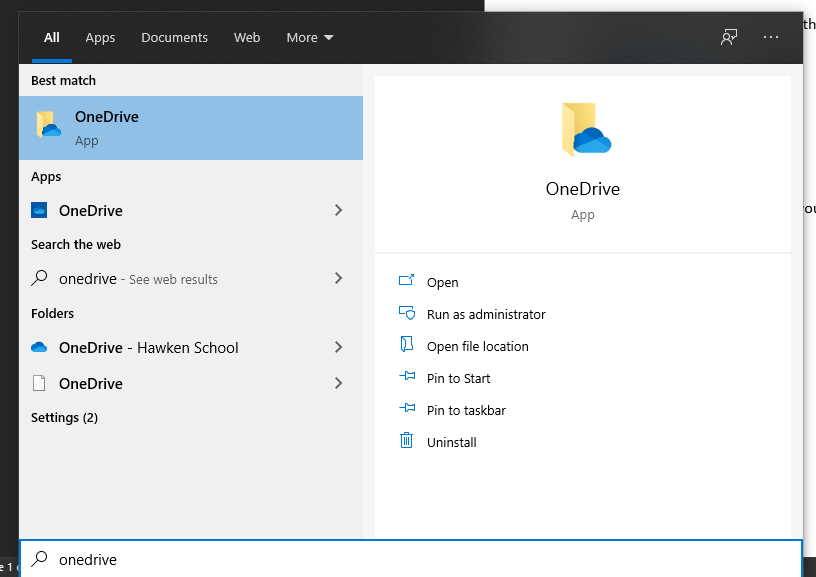 You can quickly get to your OneDrive folder by clicking the "OneDrive – Hawken School" quick access button in your file explorer sidebar. When files are placed in the OneDrive folder, their sync status is shown by a little colored. If OneDrive is running (as it should be from last step!) then the status icons should show up. The circular blue arrow icon means that the content is still being synced to the cloud but is not done yet. A green and white check mark means that the content has successfully been backed up to the cloud. Make sure that everything you add shows a green check mark before you turn it off. Otherwise you will lose the content that was not done syncing.

You can now copy all the files from your computer such as your Desktop, Downloads, Documents, Pictures, Music, Videos, etc from your laptop to the OneDrive folder. Try to only move what you really need, the more content you add the longer the backup and restore of the data will take.

Google Drive



If you prefer to back up to a Google Drive account then you can do that either by using the program Backup & Sync should you already be using it, or by going to drive.google.com, signing in to your account and dragging and dropping all your files into the window to upload them. (Instructions for Backup & Sync can be found here: https://support.google.com/drive/answer/2374987)

Please note that OneDrive is probably preferable above Google Drive but either have the potential to work. However, if you use a personal Google Drive account instead of your Hawken one there is a high likelihood that you may end up maxing out your limited free drive storage space.

External Drive



If you have an external drive sitting around and feel comfortable plugging it in and transferring files, then go for it. Flash drives are not preferable, hard drives are preferable, SSDs are even highly preferable but by no means necessary. Ensure that the drive you are using has ample storage space to hold all your data. Given that this method does not need to transfer files through the cloud, it is usually gonna be the fastest in terms of backup and restore time.

One the drive is plugged in; it should show up next to "Windows (C:)" in This PC: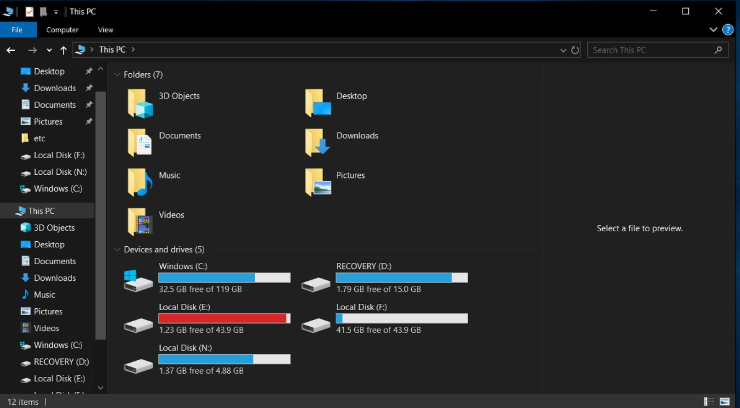 Chrome Data

Now, you probably want to save your Chrome data which includes your bookmarks, history, sign-ins, passwords, extensions, theme and more. To do this you must ensure that your Chrome is successfully syncing its data to the cloud.

To do this open Chrome  At the top right, click Profile (circular profile picture)

If it opens a panel like the one below saying "Sync is on" then you are good.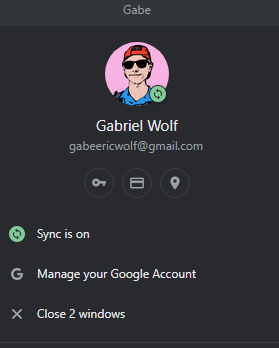 If it doesn't open the panel that continue by signing into Chrome with your Google account. Make sure to click Turn on sync > Turn on.

Cleaning

This is especially important during the times we are in. Please clean off your computer before turning it in. There are many more detailed guides online but here are some simple tips:

Use a microfiber towel for the screen




Do not use any household cleaners or harsh chemicals like alkaline or Windex on the screen




Always apply the cleaning liquid to the cloth not the laptop itself




Wring out cloth first, you want it damp not dripping



For a full cleaning instructions please visit:
Once you have received your new loaner, please continue to the next section of the tutorial.

After Receiving your Loaner

Sign-in

When you turn on your laptop you should be greeted by the Windows lock screen.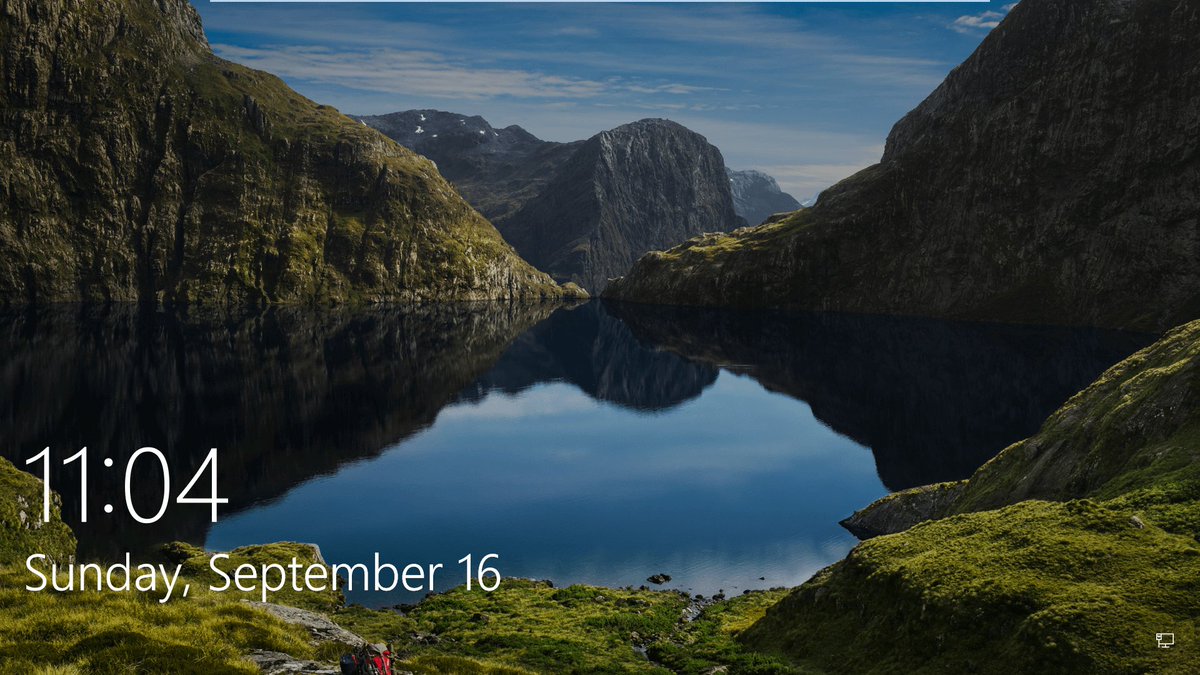 Swipe up and proceed to sign in.

You should sign-in exactly how you sign into your own laptop. The same process and login will work. The password is the same password you use to sign into your original laptop.

Once you have signed in you will go through the "Wait while we setup stuff…" screens. This only happens the first time you sign in with an account on a new laptop.

Chrome

To restore your browser to its previous setup just follow the same steps from earlier in the tutorial:

Chrome  Profile Image  Sign into Google Account  Turn on sync > Turn on

Microsoft Office

To access programs like Outlook, OneNote, Word and more you must sign in with your Hawken Microsoft Account login. This is the same as it's always been. The Username is your email (with the @hawken.edu included) and your password is the same password you use for everything else and the one that you used to get into your laptop.


Restore data

You can now restore your data from whichever service you used to back it up earlier.

External Drive



If you used an external drive, plug it in and move your files off the drive and onto the new laptop.

OneDrive



Open OneDrive from start menu: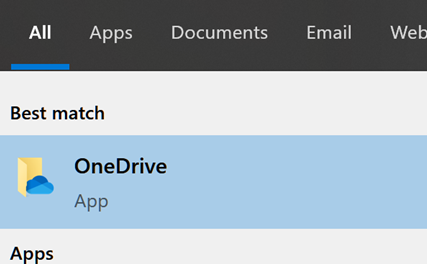 Sign in using your Hawken email and password and choose the folders you want to sync. OneDrive will then begin downloading your data onto your computer from the cloud.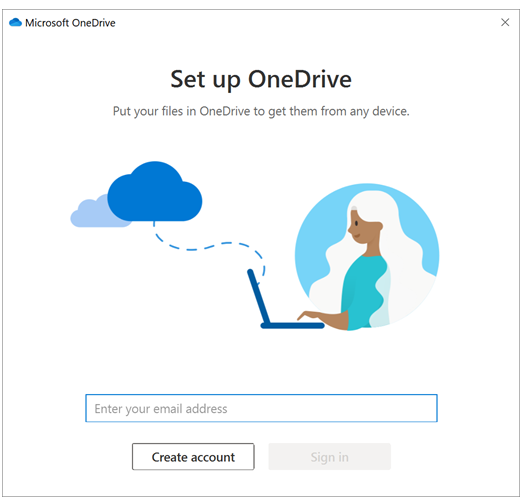 Google Drive



Go to drive.google.com and follow the sign in steps provided if necessary.